We Need Your Help to Make UA Crew Great
UA Crew is an organization where parent involvement is critical. The parents who make up the UA Crew Board and committee chairs are volunteers who donate their time to ensure that UA Crew runs efficiently and safely. But that is not enough — this organization needs all parents to volunteer at some level to make sure the program runs smoothly.
Each day that your athlete races requires approximately 85-100 parent hours of volunteer time at the regatta location. To ensure an equal distribution of work, and to ensure that the crew season is enjoyable for spectators and rowers alike, UA Crew asks each family to volunteer for a specific number of shifts shifts per regatta season. Shifts are 1 to 3 hours, depending on the position. And don't forget — siblings make great volunteers, too!
For the Fall 2016 regatta season, we're asking families to volunteer for one regular regatta shift. (We'll need additional volunteers to support our Haxton Invitational Regatta.) Below is the SignUpGenius button. Sign up now!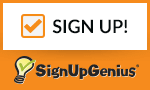 But don't think of it as work — think of it as an opportunity to meet other parents and socialize, as well as time to spend with your teenager and his/her friends. There is a wide variety of volunteer positions, so there is something that suits everyone, from tent setup or teardown to cooking and serving food to chaperoning to equipment maintenance. Additional volunteer time is needed for the events that UA Crew hosts (Haxton Invitational in the fall and Golden Bear Invitational in the spring). More information about some of the volunteer positions can be found on the Volunteer Positions and Descriptions page.
In addition to those regular-season volunteer positions, UA Crew asks for additional volunteer time for the events held at Dillon Lake. As a member of Dillon Lake Local Organizing Committee, there are a variety of volunteer opportunities available at the event level. See the Dillon Lake LOC page for more information.
Any questions regarding volunteering can be directed to our Volunteer Chair at volunteerchair@uacrew.org.
Your rower will quickly discover that it is expected, not mortifying, and even fun to meet everyone else's parents. UA Crew is not a passive, sit on the sidelines parent organization. Plan to come to as many regattas as you can and help out in the manner that suits your style and comfort level. The result will be lasting friendships with other parents; learning the details of an extraordinary sport and the best reason, get closer with your teenager at a stage when others may be drifting apart.
One final note:
Since race times vary, you will never be expected to miss seeing your child row due to volunteer responsibilities. You will always be able to watch your child race.
ROW BEARS!